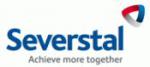 AMSTERDAM, THE NETHERLANDS -- (Marketwire) -- 08/23/11 -- Nord Gold N.V. ("Nord Gold"), a subsidiary of OAO Severstal ("Severstal") (LSE: SVST)(RT: CHMF), announced today that it acquired 8,200,000 common shares ("Common Shares") of High River Gold Mines Ltd. ("High River") at a price of CAD$1.29 per share on August 22, 2011 (the "Transaction"). The securities acquired pursuant to the Transaction represent ownership and control of approximately 0.98% of the issued and outstanding Common Shares as at the date hereof.
Following the Transaction, Severstal will have beneficial ownership and control over 618,562,172 Common Shares, representing approximately 73.62% of the issued and outstanding Common Shares as at the date hereof. The additional acquisition of Common Shares occurred in an over the counter transaction outside of Canada from a non-Canadian seller.
The additional acquisition of Common Shares was effected to increase Severstal's ownership position. Severstal controlled High River prior to the Transaction and will continue to control High River. Severstal may in the future increase or decrease its ownership of securities of High River from time to time depending on such factors as the business and prospects of High River and future market conditions.
This press release is issued pursuant to National Instrument 62-103 - The Early Warning System and Related Take-Over Bid and Insider Reporting Issues, which requires a report to be filed on SEDAR (www.sedar.com) containing additional information with respect to the foregoing matters. A copy of this report may be obtained by contacting Sergei Loktionov, Public Relations, Nord Gold at +31 20 406 4480, sergei.loktionov@nordgold.com.
About Severstal
Severstal is one of the world's largest vertically integrated steel and mining companies with assets in Russia and other CIS, USA, Europe and Africa. Severstal reported revenue of $13,573 million and EBITDA of $3,263 million in 2010. Severstal's crude steel production in 2010 reached 14.7 million tonnes. Severstal is listed on the RTS and MICEX stock exchanges, Severstal's GDRs are traded on the London Stock Exchange.
Nord Gold includes all Severstal's gold mining assets and is an established international, pure-gold producer focused on emerging markets with currently eight producing mines, two development projects, five advanced exploration projects and a broad portfolio of early exploration projects and licenses located across West Africa in Guinea and Burkina Faso, Kazakhstan and the Russian Federation.
The addresses of Severstal and Nord Gold are:


               OAO Severstal
               2/3 Klara Tsetkin street, RU-127299
               Moscow, Russia
               Phone: +7 (495) 926 77 66
               Fax: +7 (495) 926 77 61


               Nord Gold N.V.
               Strawinskylaan 3105 Atrium
               1077 ZX Amsterdam
               The Netherlands


Forward Looking Statements
This news release contains statements that may be forward-looking statements regarding future events or the future financial performance of OAO Severstal. Forward looking statements are identified by terms such as "expect," "believe," "anticipate," "estimate," "intend," "will," "could," "may" or "might", the negative of such terms, or other similar expressions. OAO Severstal wishes to caution you that these statements are only predictions and that actual events or results may differ materially. OAO Severstal does not intend to update these statements to reflect events and circumstances occurring after the date hereof or to reflect the occurrence of unanticipated events. Factors that could cause the actual results to differ materially from those contained in forward-looking statements of OAO Severstal may include, among others, general economic conditions in the markets in which OAO Severstal operates, the competitive environment in, and risks associated with operating in, such markets, market change in the steel and mining industries, as well as many other risks affecting OAO Severstal and its operations.