Trophy Slots Launches Out of Beta and Offers Players Chance to Join Exclusive VIP Club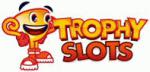 GIBRALTAR, GIBRALTAR -- (Marketwire) -- 05/21/12 -- Editors Note: There are 2 photos associated with this press release.
Trophy Slots launches out of open beta today, having spent a month testing, implementing bug fixes and enhancing the game play experience.
The speed of launch has been attributed to the help received from a group of players who have been working with the development team to test the game since its launch into open beta in mid-April.
"Launching out of BETA is a big milestone for us, not only because we are going live, but also because we have successfully optimized the game with the help of our Community, something that few other Social Slots games have done. As a special thanks to our most dedicated Community Members, we have invited them to join our exclusive VIP Club, where they can receive a range of special benefits and rewards." - Joey Steel, VIP Manager.
The Trophy Slots VIP Club offers players extra bonuses on coin promotions, VIP only competitions, direct access to the development team, and insider info. In addition to this, VIPs receive admission to the Trophy Slots VIP Facebook group, which contains an active community of dedicated social gamers.
"In our VIP Community we have some of the friendliest, most competitive and best players on Facebook, which together creates a wonderful community feeling. Our members comfort each other in bad times and celebrate together in good. People genuinely care and help each other - in a way I've rarely seen before." - Joey Steel, VIP Manager.
The community is a key part of the Trophy Slots experience, allowing players to socialise and form relationships with other gamers from all over the world.
"Trophy Slots is unlike any other slot games on Facebook. There is a wonderful sense of community. My fellow gamers are genuinely enthusiastic about each other and their achievements, woes and concerns. The tech support is phenomenal. And to top it off the slot games are just plain damn fun to play." - Stacy Horne, VIP Player.
"Becoming a Trophy Slot VIP has lots of advantages, being able to play a fun new slot game with the bonus of being able to talk, brag and share the fun with other VIP players. It is a new and fresh way to interact on Facebook, thank you Trophy Slots." - Cathy Smith, VIP Player.
Players can gain access to the exclusive VIP Club in a number of ways. The top 10 players in the global leaderboard are invited to join at the end of each month, as well as winners of special community promotions and contests. Players can gain lifetime access to the VIP Club at any time by purchasing a Trophy Slots coin package, which start from as little as $5USD.
To view the photos associated with this press release, please visit the following links:
http://www.marketwire.com/library/20120521-CaliforniaGold800.jpg
http://www.marketwire.com/library/20120521-TrophySlots800.jpg
Add to Digg Bookmark with del.icio.us Add to Newsvine