Partnership With MiMedia Enables ION AIR PRO Users to Easily Share Photos and Videos and Store up to 8GB of Data for Free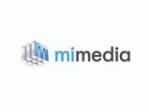 PORT CHESTER, NY -- (Marketwire) -- 05/22/12 -- MiMedia Inc., provider of a unique, cloud-based, personal media platform for consumers, today announced a strategic partnership with ION Worldwide, a global consumer electronics company that today made available its new ION AIR PRO™ HD Sports Video Camera. In the partnership, MiMedia will be the exclusive cloud provider for ION Worldwide, offering ION AIR PRO users 8GB of free cloud storage for their photos and videos.
ION AIR PRO cameras, attachable to helmets, skis, surfboards and more, allow users to shoot high definition (HD) video and photos and share them in real-time through various social networking sites, such as Facebook and YouTube. The free ION CAMERA app for iOS (iPhone/iPad/iPod) allows users to control the camera directly from a smartphone or tablet. An app for Android devices will be available soon.
ION AIR PRO users can use the camera's Wi-Fi capabilities to easily send their action photos and videos from the cameras to MiMedia's cloud for storage. Once in the cloud, ION users can login to MiMedia Online to instantly view the photos and watch their videos via MiMedia's consumer-friendly user interface.
MiMedia's service also makes those memories easily sharable. After videos are uploaded to MiMedia Online from the ION AIR PRO, users can share a clip of their best run via email, post a photo of an extreme trick to Facebook, or stream a video of a funny outtake to their iPhone or iPad with the MiMedia app.
MiMedia and ION Worldwide view the partnership as a natural fit, as both companies have a strategic focus on integrating digital media and mobility.
"Whether on the slopes, bike trails or catching a wave, MiMedia is pleased to provide ION AIR PRO users with an easy way to store, access and share their adventures from anywhere," said Erik Zamkoff, CEO of MiMedia. "MiMedia's high quality, real-time streaming also ensures that the users' videos will always look sharp, on any device."
Giovanni Tomaselli, managing director, ION Worldwide, added: "We knew an easy-to-use online backup and sharing feature was one that our customer base would be excited to use. We looked for a partner who would provide our customers with an organized gallery of photos and videos that could easily be accessed and shared with family and friends. MiMedia was that partner."
The ION AIR PRO, with added MiMedia cloud storage, is available today on the ION website at http://www.ion-america.com/ion/E-Shop.html.
About MiMedia
MiMedia brings consumers a totally new approach to online backup and sync -- a way to protect, access, enjoy, and share their digital lives all in one place. MiMedia backs up and protects personal files in a secure online storage account and provides instant, on-demand access to files from anywhere. The company is privately held and based just outside of New York City. For more information, please visit the company's website at www.MiMedia.com.
About ION Worldwide
ION Worldwide is a subsidiary of global consumer electronics specialist World Wide Licenses Ltd. (WWL). ION Worldwide's experienced executive team has been involved in the design, development and manufacturing of digital imaging products for leading brands worldwide for almost 20 years. The new ION AIR PRO is first in the company's new line of sports video cameras. For more information, visit www.iontheaction.com.