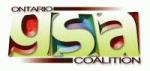 TORONTO, ONTARIO -- (Marketwire) -- 05/25/12 -- The Ontario Gay Straight Alliance Coalition (Ontario GSA Coalition) is delighted that the Minister of Education is proposing amendments to Bill 13 that will clarify the rights of students to name clubs. Under the proposed amendments, The Accepting Schools Act if passed will guarantee pupils the right to choose the name of their clubs, including the use of the name "gay-straight alliance."
"One of our key objectives has been to protect the right of students to choose the name they want to use, including the name gay-straight alliance," said Marilyn Byers, Chair of the Coalition. "We are delighted that the Minister has heard our concerns and will be clarifying that the right to name is the right of the students."
Douglas Elliott, lawyer for the Coalition, said "It is very positive that the proposed language reflects our suggestion that the new Act will acknowledge the Charter rights of students."
Bill 13 is in Committee but is expected to be passed before the summer recess.
The Ontario GSA Coalition includes a broad range of organizations, including the Centre for Inquiry, Canadian Secular Alliance, Registered Nurses Association of Ontario, Canadian Federation of Students, Ontario Federation of Labour, Egale Canada, Canadian Auto Workers, CUPE Ontario, Canadian AIDS Society, PFLAG, Metropolitan Community Church of Toronto and Catholics for Choice Canada.