With Cease and Desist Letters Sent to All Utah Stations, Reyes, Who Continues to Receive Meaningful Endorsements, Remains Hopeful for a Positive Outcome Next Tuesday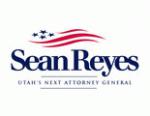 SALT LAKE CITY, UT -- (Marketwire) -- 06/22/12 -- According to Utah Attorney General Candidate Sean Reyes, the last 10 days of negative Super PAC attack ads, with a spend run of approximately $10,000 per day across local stations, spearheaded by the out-of-state "It's Now or Never PAC" and Swallow's push polling and false, negative attacks throughout the AG race have skewed the Dan Jones poll results issued today. The Reyes campaign has issued Cease and Desist letters to each Utah TV and radio station airing the Super PAC hit pieces.
According to Dan Jones, approximately one quarter of voters is still undecided in the Utah Attorney General's race.
Momentum continues to build for Reyes' campaign with the recent endorsement of Assistant Attorney General Karl Perry, who penned an Op Ed detailing his support for Reyes in The Herald Journal. Perry cites Reyes' real-life experience, sound judgment, and ability to make hard, bias-free decisions as the basis for his endorsement.
"I will continue to make every effort to ensure that my message and vision for the AG's office resonates with every Utahn through June 26," said Reyes. "I am the real attorney in this race with the leadership and experience to return the AG's office into the law office it should be."
Commenting on the uphill battle the negative attack ads have created, Reyes notes, "In light of knowing that the Super PAC ads are false, I hope voters, regardless of whether they feel they have decided or not, will take two minutes to visit my website and learn more about the 'real me' before they cast their vote on June 26."
ABOUT UTAH ATTORNEY GENERAL CANDIDATE SEAN D. REYES
Sean D. Reyes currently serves as General Counsel for eTAGZ and was formerly a partner at Utah's largest firm, where he spent 14 years handling large, complex litigation, trials and appeals. He was named the first-ever "National Outstanding Young Lawyer" in 2007 by the American Bar Association and has earned numerous state and national awards in law and business. For over a decade, Reyes has served as a small claims judge and has been appointed to both prestigious state and federal commissions. Reyes has dedicated countless hours to establishing, leading and serving on non-profit and charitable boards benefiting causes such as education, law enforcement, constitutional issues as well as fighting pornography and investment fraud. He has also served on boards and in leadership roles for legal, business, civic, religious and political organizations. Reyes is a father of six and son of immigrant parents with Asian, Hawaiian, and Spanish heritage. To find out more, go to: www.seanreyes.com.